A monthly news magazine with a Biblical world view for kids.

God's World News
The Essentials - What you need to know
Publisher: God's World News
Product: God's Big World
Age Range: Pre K - Kindergarten
A thin magazine that comes in the mail monthly. God's Big World shares short news stories with simple words that little ones can understand easily along with maps, photos and ties to the Bible. Along side the magazine is a large collection of searchable articles online.
$28 for a years subscription for home use. (To look at other subscription rates please see their website.)
The Review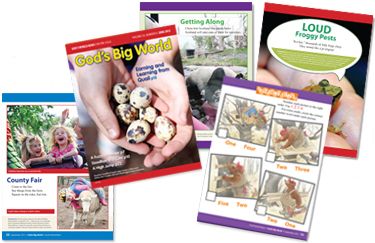 God's World News publishes six different monthly news magazines for children. Each is aimed at a different age group. The magazine that we reviewed was God's Big World aimed at children pre-k to kindergarten. Over the review period we received three magazines: the August, September and October 2013 editions. We also received a bonus wall map of the world.
Each magazine was 24 pages and contained about 15 stories. Some stories are very, very short, sometimes only a sentence or two. They use simple words and there are lots of lovely, color pictures, maps and illustrations. Some stories, labeled read to me, are a bit longer, in smaller print and use longer words. My son does not read yet, but the super short stories could be read by early readers. Almost all the articles also have teaching tips at the bottom of the page in really small print. The tips expand on the topics and give the adult reader a little more information. The articles cover a variety of science and social studies topics.
The name of the publication is God's World News, so it is not a surprise that scripture is frequently used. Sprinkled through each issue is a section called Bible2Life where the editors draw lines from the article to scripture. An example that I especially enjoyed was an article on animal conservation. The Bible2Life made the point that people who are helping endangered animals are being obedient to God's command for humans to have dominion over the animals given in Genesis 1:28.
Throughout the magazine there are puzzles that tie into the topic just explored. The magazine does not have glossy magazine pages, rather the pages are thick paper which makes writing with a pencil or coloring with crayons or colored pencils easy. The puzzles were a little hard for my four year old son. Some we did together or I modified. An example of this was a puzzle about the seasons. There were four pictures each depicting a different season and the words winter, spring, summer and fall above each pictures. The child was supposed to circle the correct word for each picture. My son and I looked at the pictures together and he said which season was correct for each picture.
I used the magazines as part of our preschool at home. I read one story per day and did the accompanying puzzle if there was one. I think that the articles were well chosen for their audience. So many had topics that would really interest young children like transportation, dinosaurs, animals and weather. Some of the articles were clearly tied to the season. One article that we liked was in the September issue. It was about how Georgia, which is called the peach state, is producing blueberries. There were pictures of blueberries and peaches. The Little Dude's favorite foods are juicy fruits. We had been eating fresh peaches from the grocery for several weeks and he asks for blueberries whenever he gets a chance. Blueberries are also one of the biggest crops in Michigan. There was a photo of children picking peaches. We recently went on a field trip to pick apples, so he was familiar with the concept. Because of the season, all of these events were fresh in his mind and it was easy to talk about the peaches and blueberries and where where came from. There was also a map of the United States and a question: "Which state do you live in? What is your state famous for." It proved a wonderful opportunity to talk about where we live and where our food comes from.
This thin monthly publication is a treasure trove of information that can help a young child see into God's wider world. I would recommend this magazine.