School is starting up again full swing on Monday. Here are five goals I have for the next semester of our homeschool
1. Get (and stick to) a physical education program.
P.E. is one of those subjects I've always regulated to "fluff", but I am rethinking my position. Regular physical exercise is good for most everyone especially in the winter. I will be looking into ideas about how the kiddos can get up and moving this winter.


2. Encourage kids daily.
While I try not to be the yelling, critical mom, it happens, more than I like. By encouraging I hope to bring into focus strengths and triumphs.
3. Keep current with schoolwork.
One of the reasons I chose Classical Conversations was the structure built in, but in the first semester we fell behind. I am so thankful that we had a month off to do some catch up. This semester I want to see each week done on time.
4. Plan one week ahead (at least)
I am always, always behind the eight ball. Planning ahead will allow me a little bit of breathing room and will also help me keep up with goal #3.


5. Go on more field trips
Sometimes, especially as winter drags on toward spring school can get bogged down. Taking the time to go out and learn something new invigorates learning and can spark the imagination.
So now it is your turn. What did you do last week? What are you doing next week?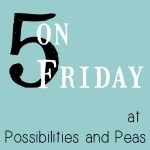 <a href="http://possibiliitesandpeas.blogspot.com/" target="_blank"><img src="http://3.bp.blogspot.com/-qP_OJ39G8h0/Tl3x_oNTDMI/AAAAAAAAAl0/L2Gj-bNdW4k/s1600/button.jpg" alt="PossibilitiesAndPeas" width="125" height="125" /></a>