An online math resource for students pre-k to grade 12.
IXL.com
The Essentials - What you need to know
Age Range: pre-k to grade 12
A online, subscription, service providing quality math (and language arts) practice.
Monthly: $9.95, Yearly $79
The Review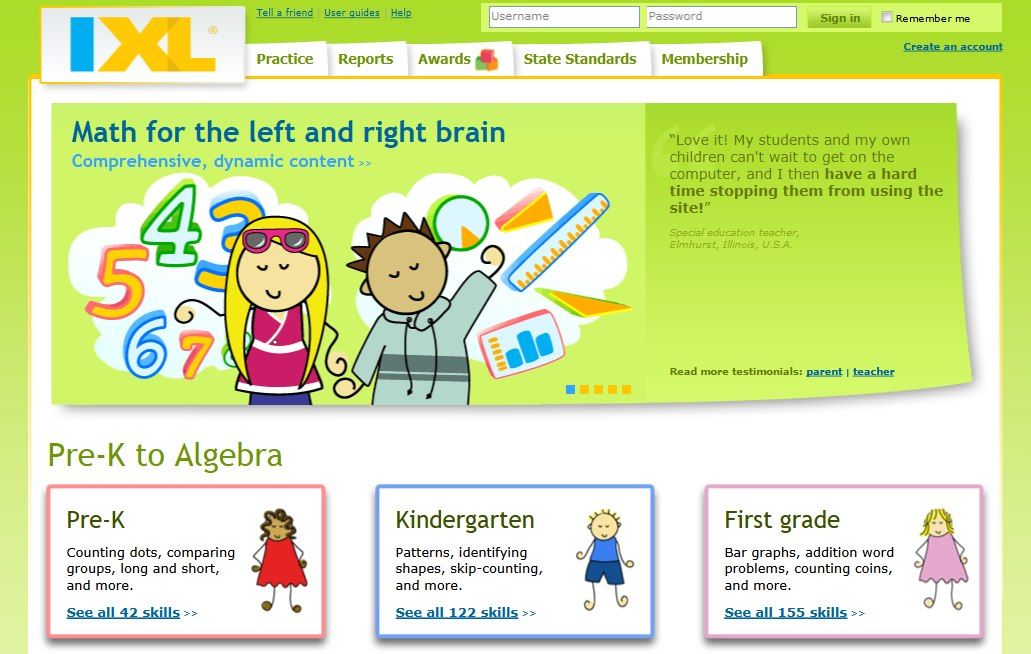 I was very pleased with this online math practice service. IXL.com provides grade level appropriate math practice problems for preschool through grade 12. They also provide language arts practice for grades 2-4, but since neither of my children fall within that range we did not use that feature.
As I have said before, I am always delighted when I find a product that works with both my preschooler and my middle schooler. Clearly they both worked on concepts that were age appropriate, and it was nice when the little one wanted to work on the computer like his big sister I could gladly say yes. We chose to use the program on our computer, but there is also a choice of an iPad app.
My son, age four, worked on counting, shapes, classifying, money, size and position. He has not had a lot of experience using the laptop. I encourage the children to think of the computer as Mom's, since they have available to them other electronic devices. So it was exciting for the Little Dude to be able to use Mom's computer. The mouse was hard for him so I sat with him while he worked and provided feedback. The questions are written out, but there is also a button with a speaker on it right next to the question that reads the question for him. I used this as a stand alone math activity during our preschool day. I do not have a particular math curriculum for him. There were sections devoted to each of the concepts. You can see a sample at
IXL's website
. Each question has multiple choice answers. My son's favorite part of the whole program though was the awards. For completing a goal, like master two skills in the the category count to five, the student got to uncover a square to reveal a picture of a ball, or a doll or a slide. I always had to make sure that we completed at least one goal. He always wanted to do more, more so he could turn over more squares.
Zippy liked the virtual prizes too. The higher the grade the more skills, and the more prizes to be had. For her I used IXL.com as a supplement to a textbook. I would have her complete problems pertaining specifically to what she was working on or as a review to cement concepts she already learned. She set the pace for herself. She wanted to the prizes so she did more problems than I would have assigned her myself.
She said the thing she liked the most about IXL was the awards and that the program explained what she did wrong when she missed a problem.
I liked the freedom and flexibility of IXL.com. When subscribed a person has access to every problem they offer. I was not contained to just the grade level I signed my kids up for. It also provided a wealth of information on my student's progress. With the Little Dude this was not so important, but for Zippy this was so very helpful to me. She often does math independently and I do not always get to touch base about what she is learning. IXL.com gave me reports via e-mail each day she worked on the site. They also provided a weekly report. In addition to that there is a variety of reports available on demand. One other feature that I found interesting, though did not personally used is the state standards. IXL.com provided my state, Michigan, math standards and the link to the problems that address that particular standard or benchmark.
All in all I would definitely recommend this math practice program.