Easy to follow e-book aimed at teaching children how to make a webpage

Let's Make a Webpage
The Essentials - What you need to know
Company: Motherboard Books
Age Range: 8 - 14
An e-book in PDF form. You must download a free trial version of the website designer software, CoffeeCup.
$19.95
The Review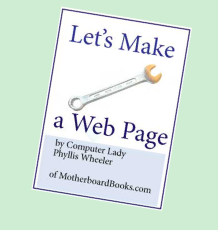 Let's Make a Webpage is a 60 page e-book in pdf file form. The tagline on the book reads "The Computer Lady from MotherboardBooks.com takes you by the hand and shows you how". I think that is an apt description of the book. Written for children ages 8 to 14, with the idea that kids older than 10 can do it by themselves, younger children with an adult beside them.
Looking at the chapters, the book does what it says it is going to do, lead you through the process of making a webpage, one step at a time. I love at the end of the book where the author, Phyllis Wheeler, challenges the reader to go through the book and make another website, and another. Zippy chose to interview herself for her webpage.
We downloaded the 28 day free trial version of CoffeeCup, the website designer software, as the book instructed. Essentially CoffeeCup writes the html code that is required to make a website. One section I really liked was where Phyllis, takes the reader out of CoffeeCup to show them the actual code in Notebook. CoffeeCup is a very intuitive environment to navigate, with drag and drop technology. I skimmed through the book and played around with it a little. It was fun.
The book focuses on the creative aspect of making a website, explaining how to manipulate text, background color, sound, photos, and animations. Although it is strongly creative oriented it does not skimp on the technical aspects. I like that she explains about html code, how the internet works, and ftp for uploading the finished product to the web. There are two appendices at the end of the book that are a bit more techy than the rest of the book. One deals with uploading to the web and hosting. It also talks briefly how to proceed without CoffeeCup, so the book is still relevant after the free trial version is expired. The second appendix is about troubleshooting.
Zippy went through the book by herself with just a little help from me. She enjoyed the straightforward, simple, writing and step by step process. She also liked the freedom to be creative with her website.