Fun Spanish Unit Study
Spanish for You - Fiestas
The Essentials - What you need to know
Company: Spanish for You
Grades 3-8
Spanish curriculum based on the Fiesta (celebrations) theme. There is a digital download (pdf and mp3 files) and soft bound book.
The whole set (grades 3-8) cost $64.95. Two grade set (either 3/4, 5/6, or 7/8) cost $39.95, extra books cost $12.95
Review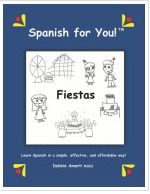 This is a fun way to learn Spanish. There are three sets available Fiestas, Estaciones and Viajes. We reviewed Fiestas. All of our material was digitally downloaded, but if you purchase the product you will get a soft bound book with digitally downloaded support material. I wish that we had had the book. There are five different components to the curriculum, the book, worksheets, audio, lesson guide, and flashcard pictures.
The lesson guide is laid out four days in a week, about four weeks to a lesson. It gives detailed instruction on precisely what is done each day. Each of the five lesson covered a Hispanic celebration including birthdays, Day of the Dead, Carnival, Holy Week and April Fair. I really liked that in addition to learning the language, Zippy got a taste of Hispanic culture as well. There is also a mini lesson on colors and numbers right at the beginning.
The beginning of the student book is full of great ideas for learning. There are thirteen ideas on how to use flashcards and lots of fun educational game ideas. There is also two pages briefly describing the celebrations. Each lesson is broken into small bite sized pieces with lots of fun games along the way. Zippy's favorite activity was making her own flashcards and doing the games that required drawing. She loves art and this was an easy way not only to learn Spanish but also indulge her artistic nature.
Flash cards are not the only way to learn in Spanish for You Fiestas. There are worksheets that help the students practice new words and phrases. Each worksheet pdf file contains both the worksheet and the answer key. There are MP3 files with the download. When learning a language it is so important to hear it. The audio adds an extra dimension to the learning experience. They are used extensively throughout the lessons We really enjoyed learning how to sing Happy Birthday in Spanish. It is great to add a new song to our repertoire of birthday favorites.
This was a great experience for both Zippy and I. It was easy to implement, interesting and fun. It only took about 20 - 30 minutes a day. The bit of Hispanic culture was interesting and informative.