A fun way to fit in science, one minute at a time.
Science Naturally
The Essentials - What you need to know
Ages 8-12
Soft bound book.
Cost: $9.95
The Review
One Minute Mysteries: 65 More Short Mysteries You Solve with Science
is such a fun book. It reminds me, in every good way, of the Encyclopedia Brown mysteries I loved as a kid.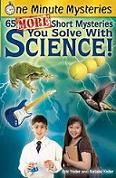 This book is a great way to wake up the mind, foster curiosity and promote discussion. All of the mysteries are a page or less in length with the solution and a photo illustration on the back of the page. There are a wide variety of science topics including , life, earth, space, general, physical and chemical. In addition there are five bonus mysteries and five bonus math mysteries. Each mystery is a mystery first. What I mean is there is not anything that says "We are going to learn about geysers" but rather the book tells a quick, fun tale of hot hikers and the answers tell why walking in a geyser's mist would not cool them down. The smaller sized paperback is nice to throw into a bag to take along, whether to the grocery, the beach or on a road trip across the country.
We used this as a warm up to Science, and on a couple of occasions to our day. It was a nice way to limber up the brain. Zippy would read aloud the mystery then we would take a couple of minutes to discuss how the problem might be solved. The book relies exclusively on prior knowledge. This is fun because all the mysteries are believable real life scenarios. Sometimes Zippy knew the answer straight away because she had the scientific knowledge. One mystery in particular, dealt with whales, a subject she studied in depth earlier in the year. Sometimes she could puzzle out the answer. She would know the how but not the why. Sometimes she did not know the answer at all. There were lots and lots of "I wonder" and "ah ha" moments.
The thing that I personally liked was the good writing and the names. There are so many fabulous and culturally diverse names. One mystery was about Amir and Hakim. When I was a substitute teacher in the public school I had lots of Amirs in the classroom. This mystery came alive for me because I could picture the boys puzzling through their problem. Zippy even found her brother's name, which was fun.
I would recommend this book to homeschool families of all ages. Not only does this make a nice science time book, but it also is a great jumping off point for some stimulating dinner conversation. I would also recommend this to regular classroom teachers. A minute mystery would be an appropriate jump start for the beginning of class or a time filler at the end of class. I would most especially recommend this for substitute teachers. When I did sub regularly I was always looking for quick, interesting things to with the kids. This book definitely fits that bill.