A cute board book that teach an important lesson.
Look Left, Look Right, Look Left Again by Ginger Pate
The Essentials - What you need to know
• Published by
Greene Bark Press
• Product:
Look Left, Left Right, Look Left Again
by Ginger Pate
• Age 3 - 8
• Wally Waddlewater learns to cross the street safely in this well written, cutely drawn board book.
• $8.50
The Review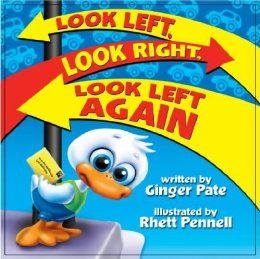 We walk everywhere, to the park, to the post office, even to preschool. Streets are everywhere and my son needs to learn how to safely cross them. I was delighted when this lovely book came in the mail to review. What a perfect way to explain to him how and why street crossing safety is important.
My four year old son and I sat down and read the book together. It is a super cute story. Wally Waddlewater, a little duck, wants to mail a card to his Grandmother, but he needs to cross several streets to get to the mailbox. Mama Waddlewater teaches him how to cross safely at a crosswalk, a stop sign and a railroad track to get to the mailbox. After lots and lots of practice Wally asks for permission to cross the street by himself, which he does successfully.
The Little Dude liked the book a lot. We read it several times. Like many children, he liked the sound effects drawn into the pictures, like the honk, honk of the cars and the clang clang of the firetruck. These fun details are what drew the Little Dude back to the book again and again.
While the the fun is what made him want open the book it also has an important lesson to learn, how to cross the street safely. He is learning the lesson well. Recently we went to the playground. I used to take him in the stroller, but recently he wants to walk everywhere. So we walked to the playground. We have to cross the street five times. Granted these are just quiet neighborhood streets, but what a perfect way to practice what he learned in this book, look left, look right, look left again. He remembered how because we read this fun book together.
Before we read this book when we crossed the street I focused on hold my hand because there are cars. While I am still a stickler for holding a hand, he now has a way to look for the cars. In the story Wally learns not only about watching out for cars but also for a school bus, a fire truck and a train. I love that this story goes beyond just looking out for cars. We live close to a train track. We have to cross when we walk to our local farmer's market. Because the Little Dude saw in the book Wally crossing with his mother at a train track he knows the right thing to do now. I also love that the story does not just cover crossing the street but also crossing at the cross walk, train track, the traffic light and the stop sign. All of which we encounter on a regular basis.
I think this is a well written book because it explains an important lesson is a fun way that will keep kids coming back again and again.