A beautiful book that makes teaching your preschooler in the place that they live seem very doable.

The Homegrown Preschooler
The Essentials - What you need to know
• Published by:
Gryphon House
•
The Homegrown Preschooler, Teaching Your Kids in the Places They Live by Kathy H. Lee and Lesli M Richards
• Age Range: For moms of preschoolers
• Large, paperback book with 224 pages, color photos and text.
• $29.95
The Review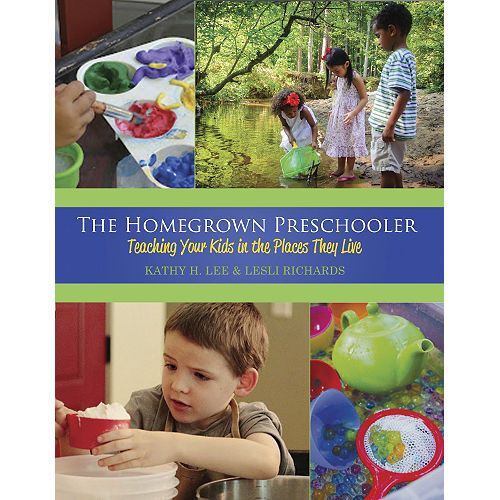 Before I get into the meat of the book I want to talk about the book. This book is pretty. It is a large size comparable to a magazine. It is soft bound with a glossy cover, semi glossy pages and has lots and lots of full color photos. It is beautiful. If I had a coffee table, I would have no trouble putting this book on it. It is just that pretty.
Here is the really beautiful part about this book, it is not just a pretty face. This book is full of wisdom, guidance, resources, touching stories, tips and recipes. I would call it a manual for the homeschooling pre-school mom. It is not, however, a curriculum. It does not give a day by day, activity by activity schedule. It provides a little more of a bigger picture while still paying attention to the details.
The book is written by two veteran homeschool moms Kathy and Lesli. At the beginning of the book each tell their own story. I love that we get to know these two gifted moms straight away. There was something in each of their stories that resonated with me in my decision to send or not to send my son to preschool this year.
The book is broken into two parts, with an appendix at the end. The first part of the book is the chapters, nine in all. They lay out the big picture "how-to", from setting up the home to taking time to teach. They address how children learn and the stages of development. They also address special situations and seasons in life, such as adoption, illness and special needs. The introduction of the books says "The first half [of the book] will help you evaluate your priorities and goals for your child and family."
I was impressed by the quality of information on how children learn. It addresses learning in many different aspects. This made me feel like I could tackle preschool at home and it would be ok. In the chapter "Setting the Stage" the authors take us on a virtual tour of a preschool classroom, explaining the purpose of each station or activity, translating it into something that can happen at home.
Another point that I found especially informative was in the chapter "Who Has Time for This?". Three preschool families describe a perfect day. One family has one child, the second family has three children, the last family has six children. It really gives a good window on life, in a homeschooling family. This book is directed at parents of homeschooling preschool children. The authors make a point of saying homeschooling preschool can prepare the child for any kind of later school experience.
Sprinkled throughout the chapters are some special touches. There are beautiful quotes, notes from each of the authors relating stories from their own lives, and there are recipes, really yummy recipes. I will be making the chicken enchiladas this week.
The second half of the book has about a gazillion developmentally appropriate activities. Ok, maybe not a gazillion, but there are a lot. They are divided into "target areas of growth that are necessary for healthy and happy preschoolers to be ready for kindergarten in any setting". Those areas include home life, science, gross motor, fine motor, math, language and emergent literacy, art and social-emotional.
This was my reaction as I read through the second half of this book: "Oooooh I want to do that, and that, and that. Ah, that is such a great idea, Oooo, I never thought about doing that...." Seriously, tons, and tons of fabulous ideas. There are recipes in this section as well, recipes for play dough, puffy paint and sidewalk chalk. Field trip ideas and tips are sprinkled throughout this section as well.
Lastly there is an appendix. The appendix contains an activity checklist, a getting started checklist, two pages of resources (books, websites, DVDs, blogs and apps), and plans/instructions for building a plexiglas easel and a sensory/light/water/sand table.
This is an amazing book. I will be recommending it to all my friends with preschooler. It is absolutely worth the price.