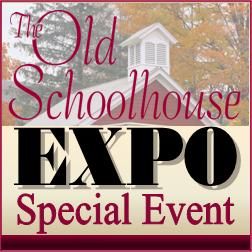 I am super duper excited about this great opportunity. Imagine hearing fabulous speakers talk about exciting homeschool topics that you want to hear, just like a homeschool convention right from the comfort of your own home. The Old Schoolhouse Expo is just that very thing. A virtual convention with tons of fabulous speakers.
The price is only $24
Register Today!
You get five days ~August 19 - 23, 2013~ of speakers from 1:00pm - 8:00pm (eastern standard time).
Two speakers that I am especially excited about are
Andrew Pudewa
is speaking on "Teaching Boys & Other Children Who Would Rather Make Forts All Day" Sounds just like Zippy!
Marie Rippel
is speaking on "Effective Teaching Methods for Struggling Learners".
This looks like an event that will really help me get mentally ready, and excited for the upcoming school year.
Do you want a FREE ticket to get into the Schoolhouse Expo. I am doing a giveaway. Check out the giveaway post for all the details.
* Disclaimer *
This is a promotional post. I receive a ticket to the Homeschool Expo in exchange for my post. All opinions expressed are my own.